Your Dream Vacation is Here
When you think rafting you don't often think about children, but we do. We love nothing better than getting kids to fall in love with the river. Our family package takes you from Kathmandu or Pokhara, rafting on the slightly warmer Seti river for 2 nights 3 days with plenty of opportunity for the kids to swim or have a play on or in our kayaks.  At camp we have plenty of games and things to see and do to keep everyone occupied or let Mum and Dad relax. Then it is just a couple of hours on a bus to Chitwan to spend 3 nights surrounded by the endangered one horn rhino, elephants, leopards and the elusive Bengali tiger.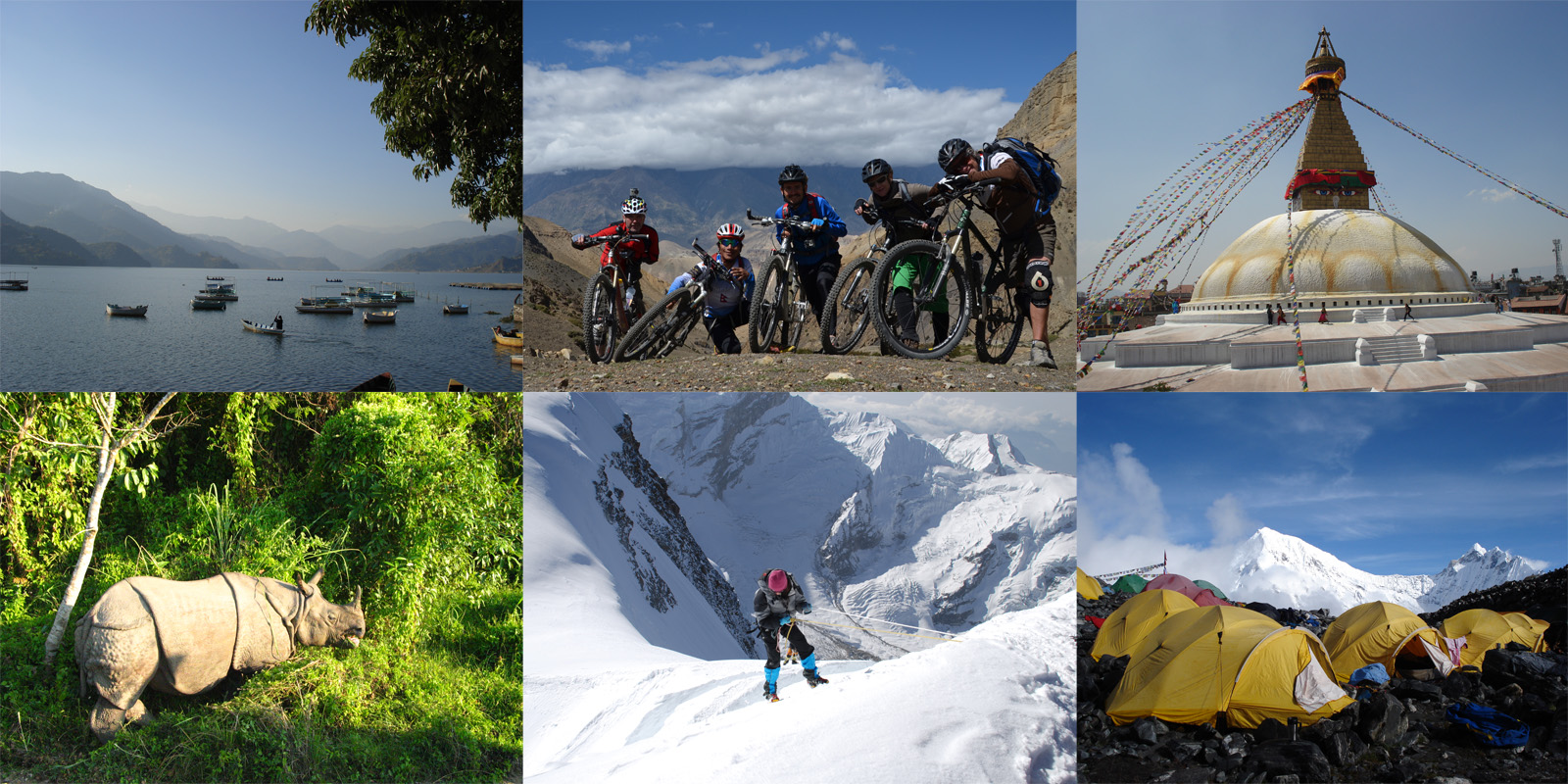 This trip is an ideal way to avoid the big long bus journeys between tourist centres and see Nepali life from the river side. We provide child size equipment, wetsuits, lifejackets and helmets and take plenty of stops to enjoy the scenery, the wildlife (monkeys, birds and the occasional fish) and replenish energy (biscuits and juice). In Chitwan you can ride an elephant to get up close and personal with the locals, watch as the elephants take a bath and visit traditional villages.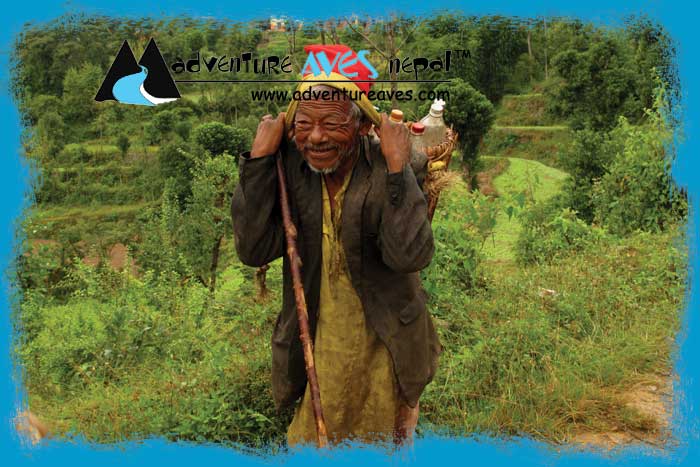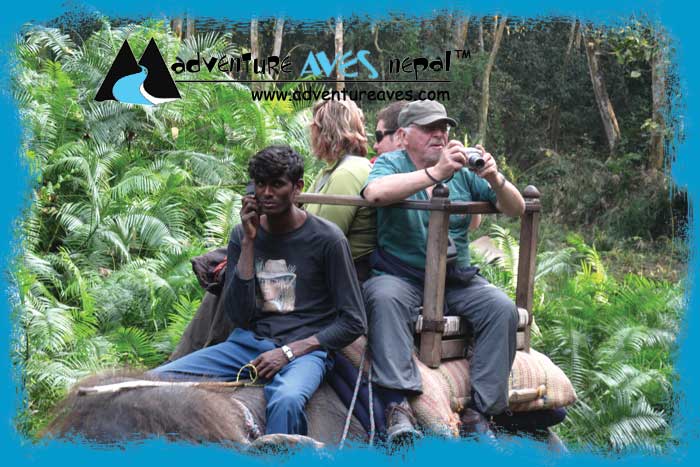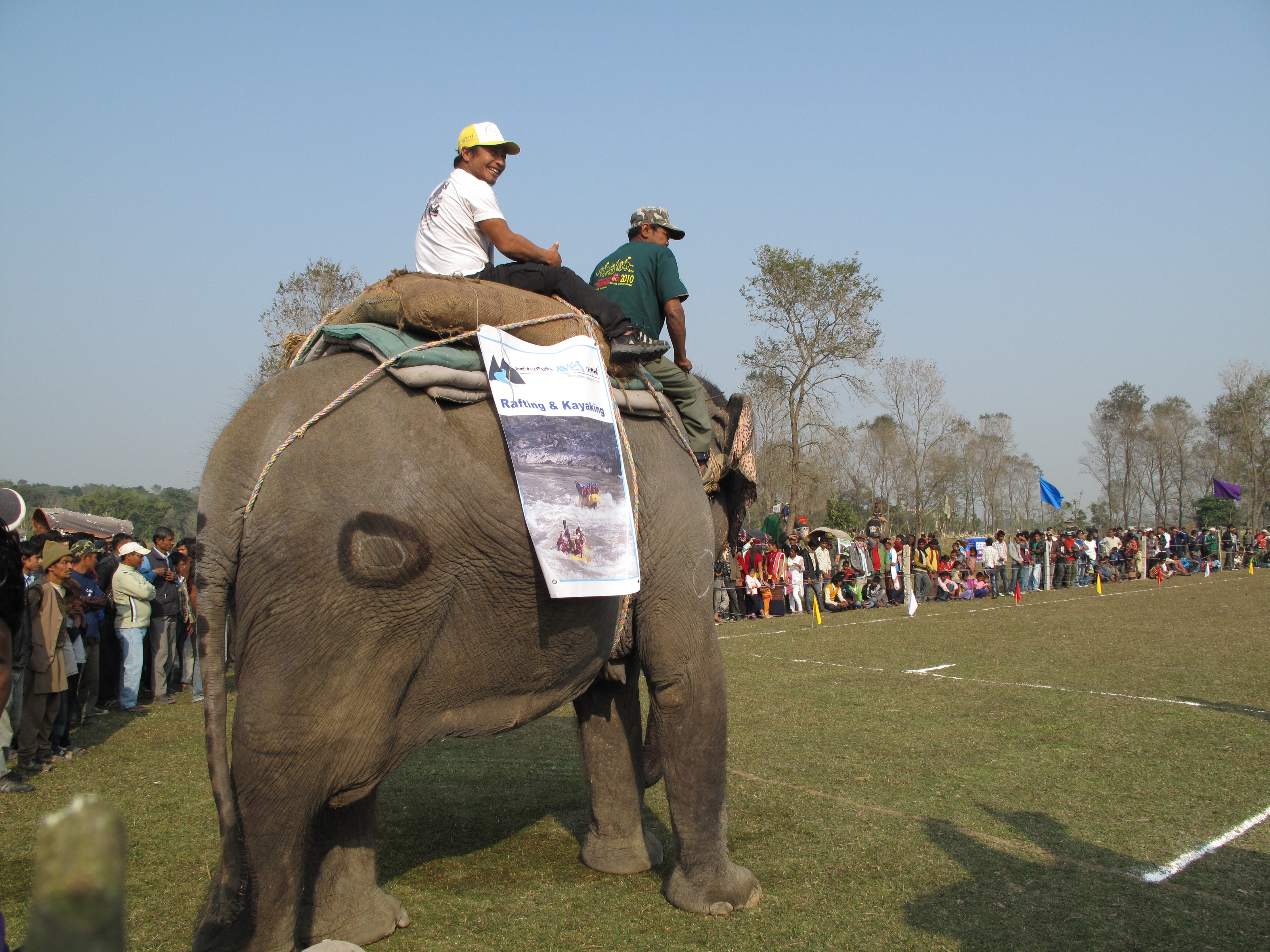 PEDDLE AND PADDLE CHITWAN
A fantastic way to see Nepal is by mountain bike or from the river so why not combine both, all you need is experience of riding a bike (not technical riding) and a little bit of get up and go. We begin with a 4 hour bus journey to Gamaune then it is on to the bikes for a 5 hour ride off road to just below Damauli on the Seti River. Here you will relax after your ride, have dinner by the fire and camp under the stars. The next morning it is into the rafts for a two day trip through grade 2/3 rapids surrounded by amazing birdlife and plenty of places to swim or relax on the beach.  On the river we camp at Saran Ghat, a small Gurung village in Chitwan with very friendly local people and who provide a home cooked meal for us at the end of our first days rafting.If you are short on time and want to do more than just trekking or fancy breaking up your journey to Chitwan National Park then this is a great 3 day trip. Available from Kathmandu or Pokhara we provide everything from transport to and from the trip, fully serviced bikes and helmets, all camping equipment (except sleeping bags), all rafting gear and expert guides and all food on the trip (from lunch on the first day to lunch on the last).
THE ORIGINAL PEDDLE AND PADDLE
This trip combines a thrilling day of downhill mountain biking with a day on one of the most exciting rivers in Nepal, the Bhote Kosi. After just a 2 hour drive you find yourself at one of the most stunning viewpoints over the Himalaya in Nagarkot. Once you have taken your photos and had a cup of tea (obligatory on any biking trip in Nepal) it is on to your wheels to head down a jeep track through lush green forest, local villages and a cheese factory! At the end of your 35km you get to relax and enjoy a hearty lunch. At our destination we will stop for some refreshment then it is back on to the bus for about 1 ½ hour drive to our camp site ready to relax by the river.  Here we will enjoy good food and good company by the camp fire.  
Next morning after a leisurely breakfast we head back on the bus to our rafting starting point. You'll be kitted out with all the gear you need, given a short paddle and safety talk then it is onto the river to tackle the rapids. After 3 ½ hours of paddling we finish with a well-deserved lunch before heading back to Kathmandu. This trip is ideal for those who don't have much time or are looking to fill a weekend around Kathmandu. It is a great way to see the mountains, foothills and beautiful gorge of the Bhote Kosi which runs from Tibet.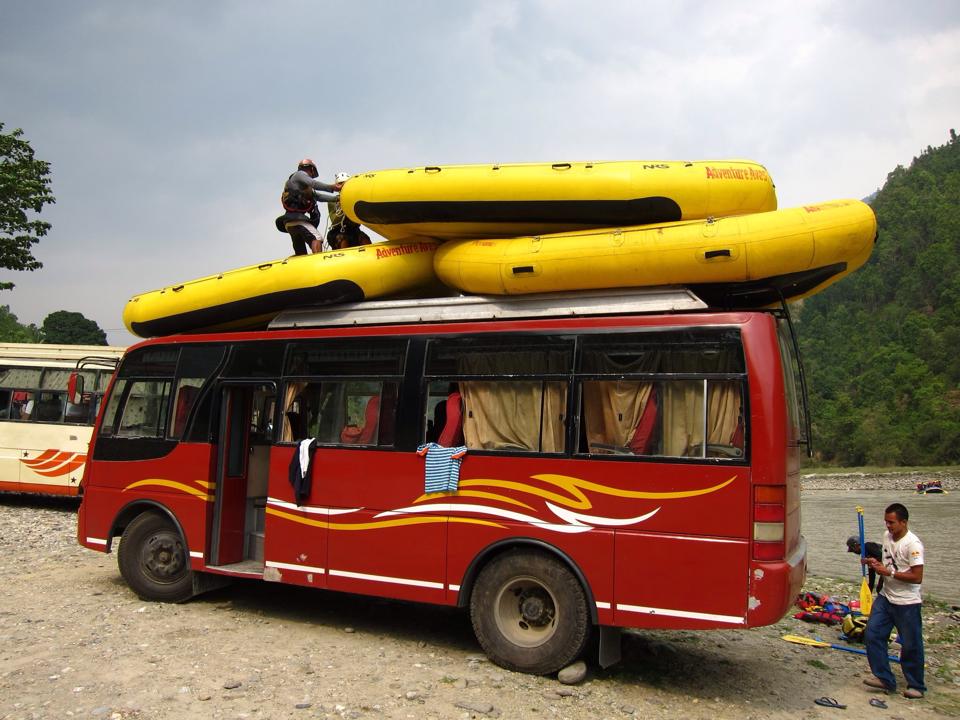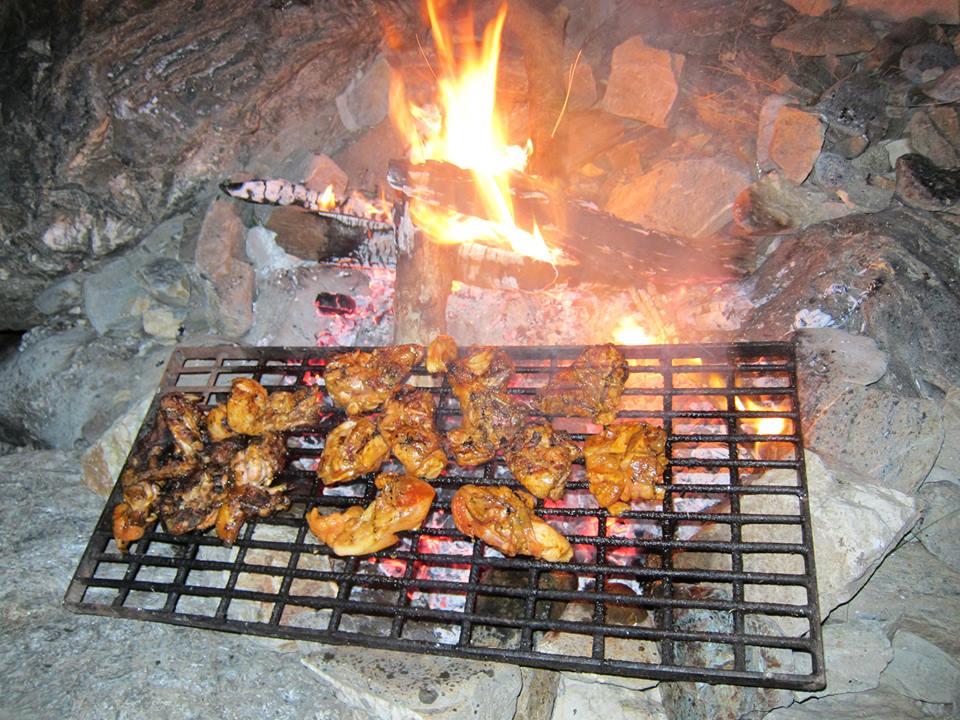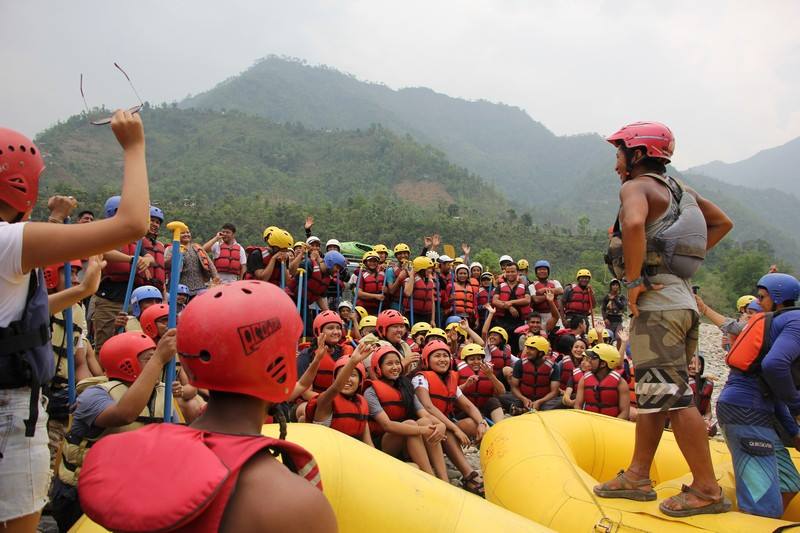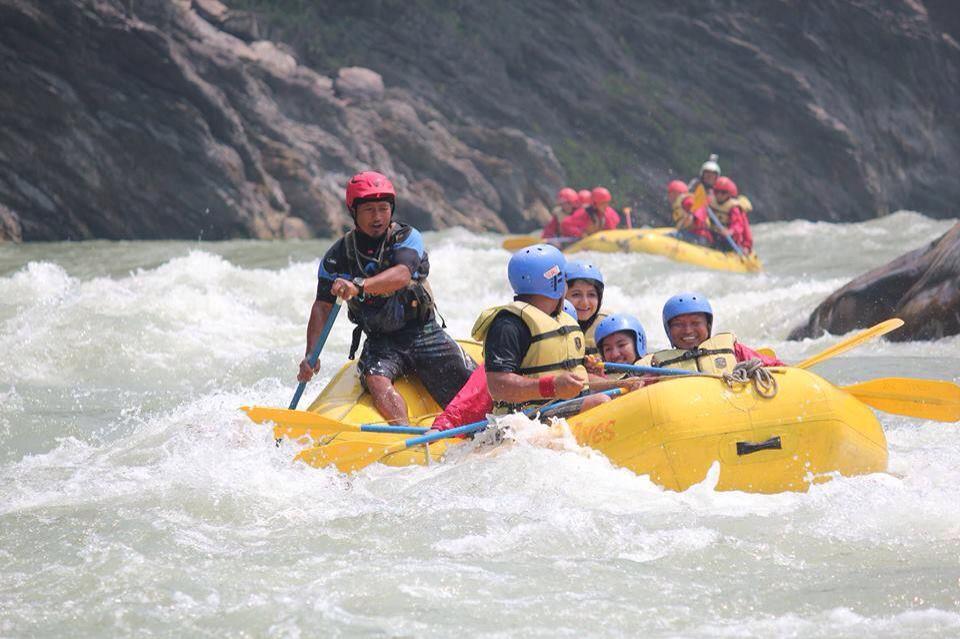 THE ULTIMATE PEDDLE AND PADDLE
Spend 4 ½ days taking on the might of the Annapurna's on two wheels before heading down to the Kali Gandaki to ride wild rapids, this really is the ultimate peddle and paddle combination. The amazing views and rich cultural heritage will keep you enthralled as you ride from Jomsom to Maldungha, along great single tracks and jeep roads and combining some of the toughest climbs and best downhill in Nepal. From Maldungha it is onto the boats to tackle Little Brother, Big Brother and Rafters Refund rapids to name just a few. Sat in one of the most beautiful valleys in Nepal, this holy river changes every year after the monsoon and is a favourite of the guides.This 7 day trip is really a chance to do and see a lot of this magnificent region. Starting from Pokhara, a short flight to Jomsom takes in breathtaking views of Dhaulagiri and beyond, a great way to kick off this spectacular tour. This is a fully inclusive tour with all food and accommodation (camping during the rafting section), transport, fully serviced quality mountain bikes and helmets, all rafting equipment (including wetsuits) and most importantly expert guides provided. There is no better way to see this beautiful and enthralling area.
WHITEWATER, WATERFALLS AND CROCODILES
Experience the thrill of whitewater rafting, the adrenaline rush of canyoning and the peace and tranquility found when watching wildlife all in one trip. After a 2 ½ hour bus journey from Kathmandu we head on to the rafts for a one and a half day paddle on the Trishuli river from Charoudi, taking on class 3 and 4 rapids and enjoying our camp under the stars. On the second day we finish rafting at Jelbire, famous for its waterfalls and pools and a great place to canyon. After all the thrills and fun we get back onto the bus for a just a short 1 hour journey to Sauraha and the delights of Chitwan National Park. Here you can relax for the evening before heading into the jungle for the next day by elephant or jeep in hope of seeing the elusive Bengali tiger and the endangered one-horn rhino.  With an option to spend 2 nights/3 days or 3 nights/4 days in Chitwan this trip is an exhilarating way to journey from Kathmandu and see Nepal from the river side. No experience of rafting or canyoning is necessary and we provide all activity and camping equipment (except sleeping bags).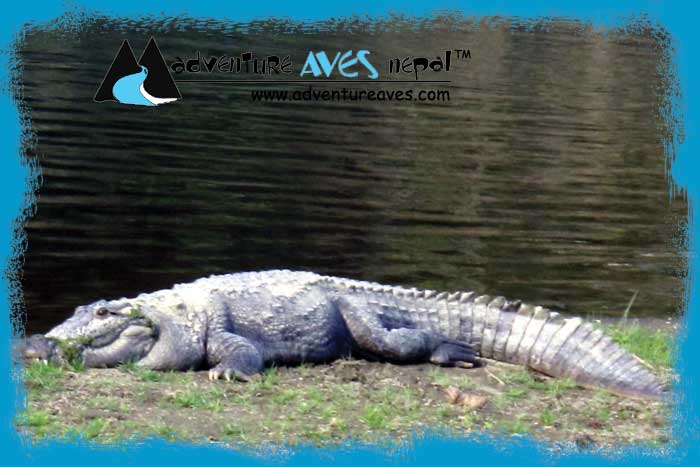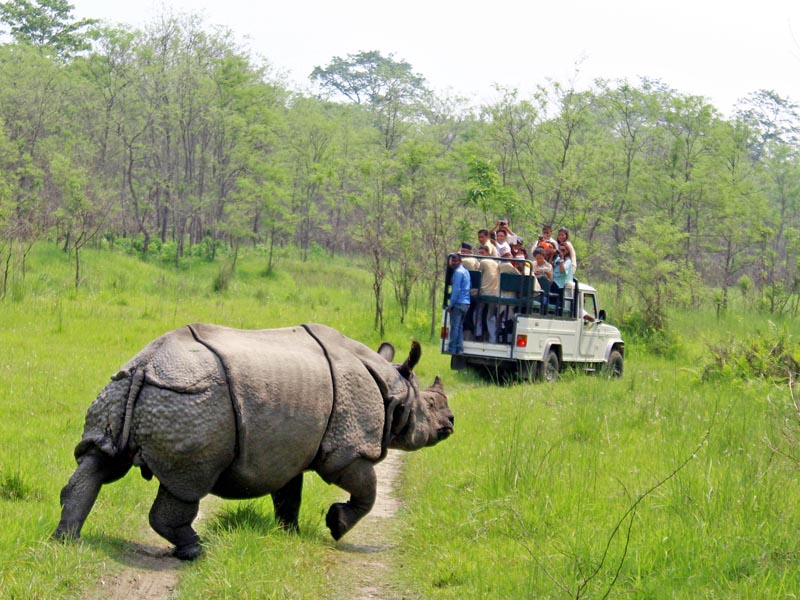 21 DAYS MIX AND MATCH IN NEPAL
21 days in Nepal gives you a chance to see and do a lot with plenty of time to relax and get a feel for the Nepali pace of life. Now you can do that without spending weeks planning, all you need to do is prepare yourself for amazing views, exciting activities and a unique cultural experience. With a program including mountain biking, rafting, trekking, jungle safari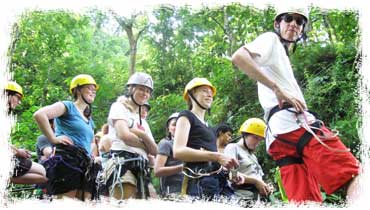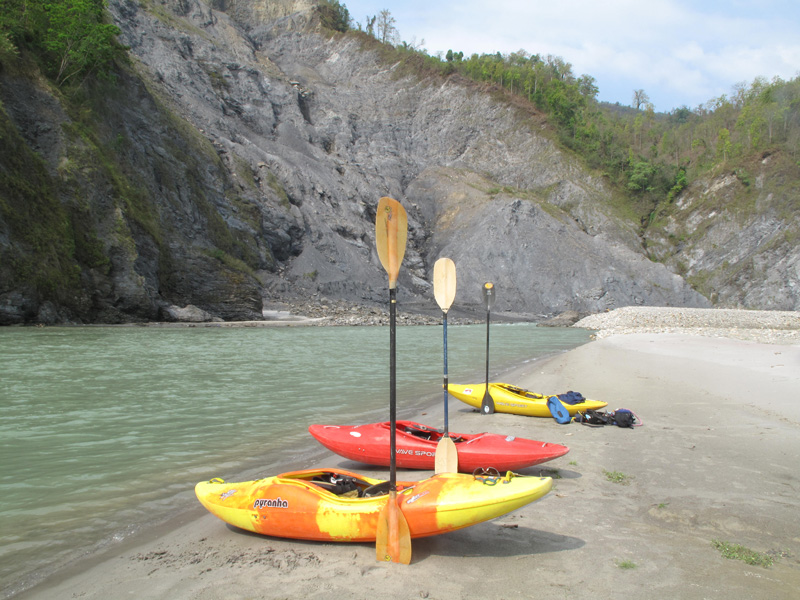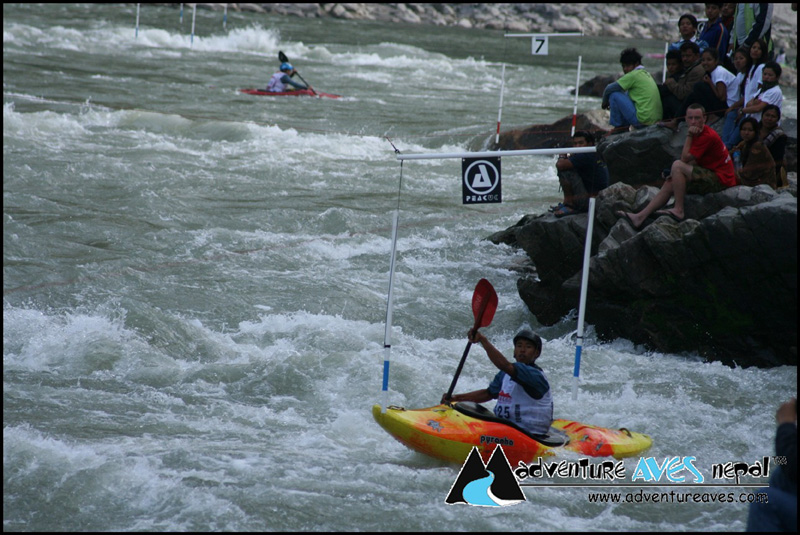 LEARN TO KAYAK WHILE YOU SEE NEPAL
With so much to see and do in Nepal it can be difficult to see how you can fit it all in, especially if you want to learn to Kayak and see the many wonderful places of this Himalayan country. That is why we developed this programme, so that you can leave Nepal a competent kayaker with a flair for the sport and take home great stories of the places you have seen and the people you have met. We start in Kathmandu where after sightseeing you will be given a 2 hour safety and Eskimo rolling class at a local swimming pool. The next morning it is onto the bus to head to the Trishuli river for 3 days of paddling, practicing strokes, rolling and learning some essential techniques. Now it is time to relax so we head to the old hill top town of Bandipur to enjoy the views of theHimalayas and bask in the sunFrom here we move onto Pokhara for sightseeing and the option of doing some trekking in the Annapurna region. After enjoying the mountains we get onto the warmer Seti river for 3 days to put all you learnt before into practice and try your hand at surfing some waves. Finally we head to Chitwan for a relaxing 2 night 3 day stay watching the wildlife and enjoying the local culture. In total this is an 11 nights/ 12 day programme with the option to add trekking in the Annapurna region for anything from 3 to 10 days. We provide all the required equipment for kayaking – suitable boats for a beginners, spray deck, wetsuit, paddle top, kayaking pfd (life jacket) and helmet, expert tuition (on a maximum of 1 guide to 2 beginners basis) and an accompanying raft for gear and safety support.
If you are an adventurous angler who is looking to go further afield to find your next catch then Nepal has something to offer. Famous for Golden Masheer and giant Catfish, the Babhai rivers meanders its way from the foothills of the Himalaya to the plains and jungle of Bardia National Park.  Your trip starts with either a 14 hour bus journey or a short flight from Kathmandu to Nepalgunj, depending on your budget, then a two hour transfer by vehicle to Bardia National Park. Here you will spend your first night in a homely resort surrounded by the locals, one horned rhinos, elephants and the elusive Bengali tiger. After an early breakfast we hop in the vehicle with all our gear for a 1 hour journey to our starting point. From here we will spend the next 3 ½ days in the best fishing spots in Nepal, feeling the excitement as your rod bends and the fight begins.  As we paddle downstream we pass local villages and watch the world go by in this remote part of Nepal. Evenings are spent camping on the sandy beaches under the stars.
At the end of the trip you can choose to spend more time in Bardia, taking in your surroundings by elephant or jeep safari, fly back or take an overnight bus back to Kathmandu. We provide all rafting gear and camping gear (except sleeping bags); all you need rto bring is your own angling equipment and enthusiasm. This is a catch and release trip.