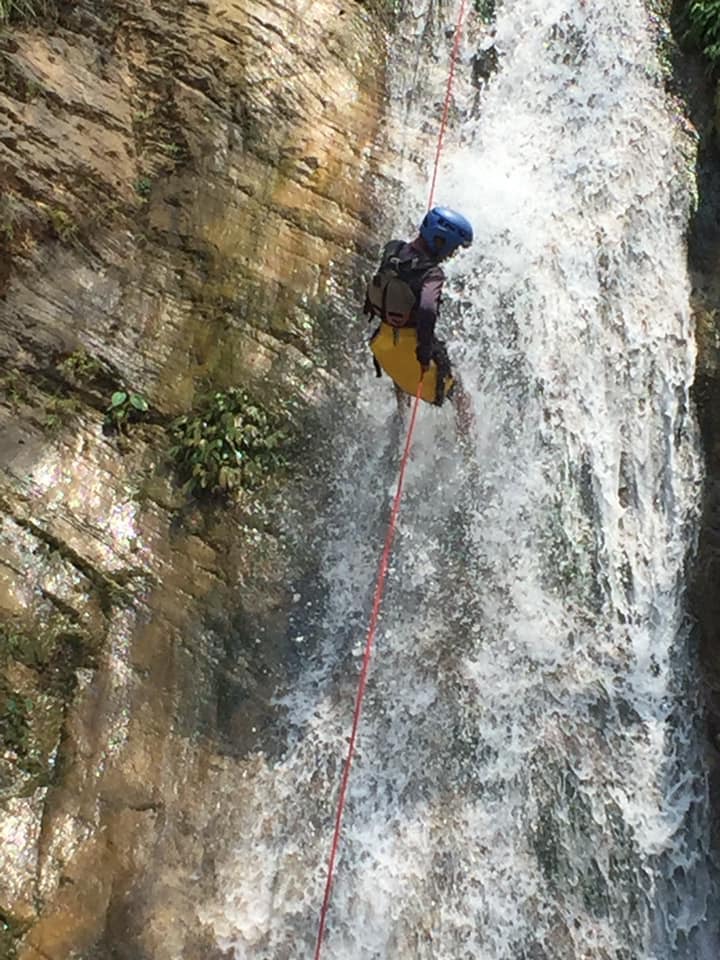 Nepal is chosen as a canyoning destination by many tourists due to the charismatic waterfalls flowing through big mountainous rocks in some amazing parts of the country.
The adventure begins by taking a morning bus from Kathmandu, headed to Muglin, about a five-hour-drive along the Kathmandu-Naraynghat highway. Carry your gripped shoes, Go Pros, extra clothes, and snacks, and head off. The captivating scenery of hills and rivers on your way during the long drive will relax you, I bet. There are going to be some short breaks along the way, to taste good things from some local eateries, and perhaps enjoy a glass of tea served in the highway restaurants.
After the uphill hike, you will reach Chandi Vanjhyang, where you will see lamojharna, a waterfall that's nearly 100 meters in height. It's one of the highest waterfalls in the region, and it directly strikes the rocks at the bottom, the water making a small pond. You can swim and refresh yourself there before you start canyoning. It's an amazing sight, but lamojharnaisn't for first-timers, so like me, you'll probably start with something smaller.
The canyoning begins with a short series of instructions from the guide. He will help you put on your harness and life jacket, and instruct you about abseiling down with the help of ropes. Make sure you wear gripped shoes, because the rocks are very slippery and it's easy to lose your balance on the rock. The guides will tell you what position you should take while you go down the waterfall. The fun begins with a slide from a stream going down the small cliff, and then you are on to cross five waterfalls that are each about 45-50 meters high.
Every waterfall provided a different experience. The most exciting part for me was sliding upside down from a stream and jumping off a huge cliff into the pool below. My Jalbire experience made for an unforgettably adventurous daytrip that I'm still telling people about months later. And, it's not just the canyoning, it's also the hospitality that the team provided me, and the memories that make me smile when I'm alone, remembering the comforting feeling when I was served the delicious local meal that provided the perfect end to my day at Jalbire.