Karnali White Water Rafting and Kayaking Expedition – 10 Days
180 kilometers long Karnali River springs straight from Mount Kailash in Tibet and is one of the most preferred rafting destinations by both the guides and rafters as it offers an excellent white water thrilling roller coaster ride. The river flows into remote areas of immaculate jungle with abundant wildlife, birds and fish. The starting point of this rafting track is Dhungeshwor, which is around a 24 hour drive from Kathmandu; whereas the take out point is Chisapani (578 kilometers from Kathmandu).
The combination of some exquisite natural beauty and the magnificent white water canyon makes Karnali rafting one of the best trips available in Nepal. The best seasons to raft in Karnali are October to December and March to May. The 10 days river expedition is ideal for someone who is looking for a more different experience of Nepal with beautiful scenery and a great river action. And the main advantage of this rafting trip is that the take out point is situated ideally for people who want to visit Bardia National Park; and Karnali River itself is a great destination for fishing. Karnali rafting is one of the finest multi day rafting destinations.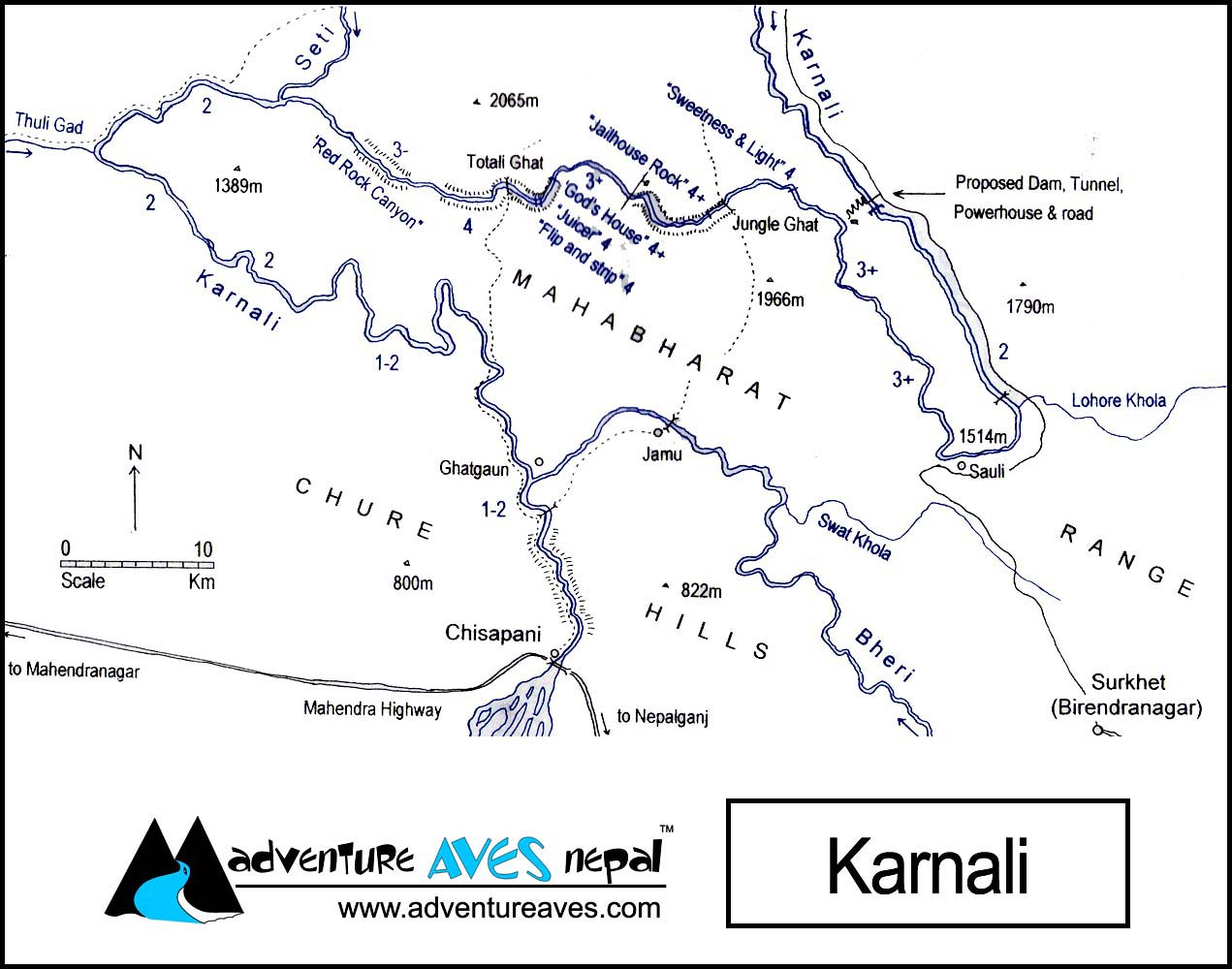 Karnali White Water Rafting and Kayaking Expedition – 10 Days
What's Included
Professional English speaking licensed guides highly trained and safety certified to international standards in Whitewater River Guiding, Swift Water Rescue, and Wilderness First Aid
Professionally trained and certified safety kayakers.
Gear raft support
Quality rafting and kayaking equipment, including boats, kayaks, helmets, paddles, PFDs, dry bags and Pelican boxes.
Accommodation in a camp and all necessary facilities including two man tents, shelters, simple mattress and sleeping bag, toilet tents, etc.
Treated drinking water
Two-way transportation – buses, 4WDs.
River permits.
Industry standard first aid kits
Team photos (photos videos by our team)
What's Not Included
Visas, flights, other taxes etc.
Personal items like toiletries, clothing, camera etc.
Alcohol and other packed food.
Insurance policy: paddlers need to have their own insurance since we only provide insurance to our crew.
Tips for guides – we pay our guides and porters fairly but if you want you can tip them personally.